Become a Member Las Vegas WON Rotary Club
Rotary may be a new word to some, but for others Rotary is the oldest service organization in the United States, started in 1905.  Currently, Rotary has 1.2 million members. Rotary is very prestigious organization.  For decades people worldwide found it extremely difficult to become a member.  This has changed…
Basically, Rotary is a leadership organization, made up of business, professional and civic leaders. We get to know each other, form friendships, get things done in our community, network social and create business new connections. And we have a lot of FUN.
Since Rotary was founded in 1905, many people do not realize the creation of Las Vegas WON Rotary Club in 2016 changed the future of Rotary.
Las Vegas WON Rotary Club has pioneered the no attendance policy, our live streaming video meetings, our incredible low monthly fee, $29, our transparent club policies, our networking among members, our membership open to people not 100% living in Las Vegas. These reasons are just a part of the great opportunities available for less than $1 a day. (Those attending lunch will pay the lunch cost)
Becoming a Rotary Member in Las Vegas WON Rotary Club is Easy!
Any individual, age 18 or more, who would like to have more information on all the benefits and how they can become a member of Las Vegas WON Rotary Club please call the following number: 702-210-4201
For those individuals who would like to become a member immediately, please click here to complete the Membership Form.
Displayed is the membership plaque each member receives when they are inducted into the club in Las Vegas.  This magnificent plaque is a token of the appreciation and the pride of becoming a Las Vegas WON Rotary Club Member.
(Member needing their plaque sent to them, there is a cost of the exact shipping fee.)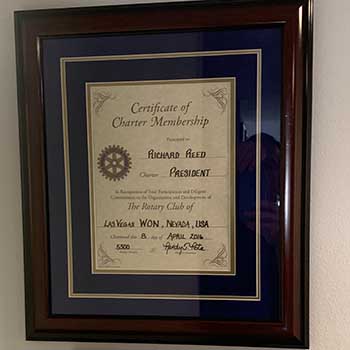 A Few of the Benefits of Becoming a Rotary Member in Las Vegas WON Rotary Club
1. The prestige of being a member of Rotary, the oldest Service Organization in the USA, started 1905
2. Membership in the largest Chartered Rotary club in the history of Rotary, Las Vegas WON Rotary Club
3. Membership in Las Vegas WON Rotary Club allows you to visit any of the 37,000+ Rotary Clubs worldwide.
4. Network with prominent professionals and civic leaders locally as well as worldwide.
5. Participate, if "you" desire, in "giving back" to the community. (Remember it is a fact those who help others and are active in philanthropy live approximately 2+ years longer)
6. Very low cost to become a full Las Vegas WON Rotary Club Member: $200 one time registration fee; $29 monthly dues for those living outside Las Vegas. For those living in the Las Vegas area your monthly dues are $75 which includes an all inclusive lunch at Fogo de Chao on the second Friday of the month. (lunch valued at $60)
7. For your $200 one time application fee, you receive a gorgeous framed certificate of your membership, valued at $150+. Also your fees paid to become a Rotarian for the six months, which is Approximately $128 (Rotary International fee and Rotary District 5300 fees combined). Yes for you math wizards the club spends more money to have you become a member than we charge. We do this to keep the costs down for our members. The monthly $29 fee is payable in two options – 6 or 12 month payment. The monthly $75 fee is payable every 3, 6, 12 months.
8. No attendance requirements, however you are welcome to attend any meeting at Las Vegas WON Rotary Club. It is your loss if you do not attend and network in person with quality individuals.
9. No hidden fees or fines. Las Vegas WON Rotary Club prides itself on keeping costs down for our Members. It is true you can always donate money to your favorite project or get involved on a hands on basis, but this is your choice, not mandatory.
10. Weekly Friday meetings are seen live in streaming video through Facebook and are stored for those who desired to see the meeting at their convenience.
And the List of Assets of Being a Las Vegas WON Rotary Club Member Continues…
11. Each weekly meeting is held at Fogo de Chao famous Brazilian restaurant only 3 blocks from the Las Vegas Strip, 360 E. Flamingo Ave. The 1st, 3rd, Friday Meeting 5p, 2nd Friday noon. Free appetizers served at the 5p meetings. Those lucky enough to join us for the 2nd Friday of the month lunch meeting, there is a $45 fee for visiting Rotarians, $55 for visitors (inclusive tax, tip, beverage). The lunch, regularly $60 total, for their unlimited gourmet buffet.
12. Round Table Networking. We take great pride in helping fellow Club Rotarians. We have developed a casual program where you can present your business needs to a panel of influential business experts and they, for free, will help guide your business or needs to a higher level. See Richard Reed for details.
13. Weekly we have a guest speaker at the Friday meetings. This is an excellent way to gain additional information, education and continual growth about interesting topics.
14. Fun. By now looking through this long list it might sound a little boring but nothing could be further from the truth. Each month we have Socials besides the meetings which you can attend and bring along your significant other, business colleagues, or friends to enjoy a relaxed atmosphere of getting to know prominent other Las Vegas WON Rotary Club Members and their associates.
15. For those who travel nationwide or worldwide, Traveling Rotarians can secure medical and professional assistance as well as other services and advice from fellow Rotarians throughout the world.
16. Tell your Story. We have two methods to help you tell other prominent leaders around the world what you do, your business, your life, etc, if you desire. We have a section of each weekly meeting called Members Moment where a club member is given a few minutes to tell everyone a little about themselves and their occupation. Also, for those who have an interesting topic, you could become the featured speaker for the weekly meeting.
17. Rotary is famous for a 4-Way Test. This 4-Way Test helps develop ethical standards not only in your personal life but your professional life as well.
18. Our Club name says it all. The "WON" in Las Vegas WON Rotary Club stands for "Where Opportunity Networks" and everyday we demonstrate this message.
19. For those with families Rotary offers one of the world's largest youth exchange programs, opportunities for spouces and a myriad of other family growth and development values.
20. Rotary is not a cult. We have no secret handshake, no secret meetings, no official creed, no rituals. We proudly are an organization open to men and women age 18 and above to become a full Member of Las Vegas WON Rotary Club.
21. History has proven many great Americans and worldwide leaders were and are Rotarians. Political leaders, leaders of industry, famous individuals and many other prominent leaders. Click here to see a partial list, you will be amazed how you can become a Rotarian just like these famous people. From numerous Presidents of the USA, to Walt Disney, J.C.Penny, Sam Walton, Thomas Edison, Orville Wright, Winston Churchill, John F. Kennedy, Norman Vincent Peale, Claude Vuitton, Raymond Firestone and thousands more…