Fund Raising Project Las Vegas WON Rotary Club
The Las Vegas WON Rotary Club Foundation and LasVegasDiet.com has partnered together to help battle to End Hunger in Vegas (EHIV).
Below is how our Rotary Club is using two, made in USA, products to help raise money to feed the less fortunate in the Las Vegas area.
Raising Funds to Feed Those Less Fortunate in Las Vegas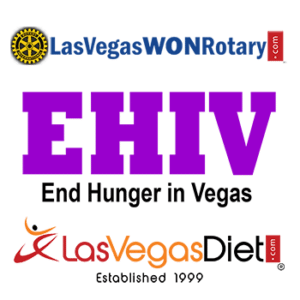 FACTS:
One in eight people in Nevada struggles with hunger
One in five children in Nevada struggles with hunger, (more than 136,800 children)
More than 22,000 Clark County seniors are food insecure. (Las Vegas is in Clark Count)
Food insecure individuals miss an average of 5.6 meals per week.
Las Vegas WON Rotary Club Through a special agreement for a mere $1.00 can feed three people a meal. Yes, all it takes is $1.00 to buy 3 meals.
To raise this money we have two methods.
1. Direct Money Donation – Every $1.00 buys 3 meals.
2. Discount Product Sale – ALL (100%) money raised above the cost of the product goes to buying 3 meals for $1.00.
THE PRODUCTS:
LasVegasDiet.com has two products which are made in USA, within an FDA facility, 3rd Party Certified, 100% Vegan, Gluten Free, No Fillers. LasVegasDiet.com sell products that work and you CANNOT feel them working! No Jitters, No Sweating, No Flush Skin, No Heart Racing, No Dizziness, No Dry Mouth, finally a NO Side Effects.
Help yourself get healthier and live longer while simultaneously helping to feed the less fortunate in Las Vegas.
FAT BURNER with APPETITE SUPPRESSANT
One easy to swallow capsule, per day, helps burn fat already in your body and simultaneously tells your body to eat less of the food you currently eat. Weight loss… No special diet plans, no meals to buy, no counting calories.
MENTAL PERFORMANCE:
Mental Performance Product increases circulation in your brain. All you do is once a day, swallow one small capsule. The increase brain circulation helps you think clearer, faster, more alert, better focus, attention span, motivated, memory. Unlock Your Brain's Potential
Fund Raiser Products
Both of these Products have a Special Discount Price.
Call 702-210-4201 for pricing. 100% of all profits go to buying $1.00 for 3 Meals.
Buy 3 or more bottles, free shipping.
Thousands of bottles have been sold. We are proud of the huge quantity of Testimonials we have received. Hundreds of the Testimonials are posted on our LasVegasDiet.com web site.
(LasVegasDiet.com is owned by two proud members of Las Vegas WON Rotary Club)