Las Vegas WON Members Remembered
It is with great sorrow and the highest respect this section of the Las Vegas WON Rotary Club website is created. Unfortunately humans pass away as the cycle of life. Rotarians are not immune to death. We wish the best for the relatives and the friends of those who have passed on.
As our Rotary Club grows and more and more Rotarians participate in the Club, it is inevitable as time passes so do our members. With a heavy heart and deep sadness listed below are members of Las Vegas WON Rotary Club who have passed but will always be remembered.
Rotarian Dick Starkweather

December 1, 1946

June 15, 2016
Richard "Dick" Starkweather, 69, a resident of Las Vegas, passed away suddenly of cardiac arrest at his home on June 15, 2016. He was born December 1, 1946 in Ithaca, New York to Glenn and Edith Starkweather. He was the oldest son of eight children. He married in 1982 at the age 34, to his beloved Kim. After High School he spent time in Germany in the US Army where he received an honorable discharge. He finally settled in California, where he spent several years working in management for United Parcel Service. He became a General Contractor and opened his own construction business where he designed concrete and stone projects for clients. In 1996, he and Kim lived out their dream and moved to Maui. He went back to school and begin earning certifications including: Association Management Specialist and Professional Community Association Manager for his new career in property management. During the 17 years living in Hawaii he managed several high end properties, and became very active in the Rotary Club of Lahaina eventually earning the position of President. After deciding to be closer to their family, Dick and Kim moved to Las Vegas and retired in 2013. Dick became a member of Las Vegas WON Rotary Club in May, 2016. Dick loved socializing, cooking, working on projects, watching his grandchildren grow up, Rotary and loving his wife. He is survived by his wife, Kim; children, Allison and Wade; grandchildren, Malia and Jai; sisters, Diann (Kacy) , Glenda (Joe), Sandy (Jon), and Debbie(Steve); brothers Owen and Dennis (April), and numerous nieces and nephews.
Beth Anderson Pote – 2018
Rotarian Beth Anerderson Pote

December 28, 1955

December 25, 2018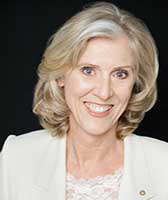 Beth Anderson Pote was born in Burbank, CA on 12/28/55 and died suddenly on 12/25/2018 from a heart attack. She was a high school classmate with Ron Howard. She graduated from USC. Her Rotary career started in 1995 in the Burbank Sunrise Club. Her passions included the Rotary Rose Parade Float Committee, where she met her husband decorating the 2013 float. She was also a huge supporter of Rotary's youth exchange program. Her home in Burbank was often used as a location for movies, tv and commercials. She said with pride and smile William Shatner had slept in her bed. For 15 plus years she owned and operated a Christmas lighting company. In addition to many malls, she did Roy Disney's, Andy Garcia's and Pink's homes. She moved to Lancaster and married PDG Randy in 2015. She was a good "first lady!" She is survived by husband Randy, brother Dexter, two sons and five grandchildren.. She was a Charter Member of Las Vegas WON Rotary Club.