Paul Harris & Friends - First Four Rotarians History
February 23, 1905, Four Men Start the First Rotary Club Meeting
Paul P. Harris, Gustavus Loehr, Silvester Schiele, and Hiram E. Shorey meet in Loehr's office, in Room 711 of the Unity Building in downtown Chicago, Illinois, for what was the first Rotary Club meeting. History was made on Thursday, February 23, 1905 and Rotary was born, forming the world's first service organization. They decided to call the new club "Rotary" after the practice of rotating meeting locations. Paul Harris concept was to bring business associates together to form a social camaraderie because all four men came from rural areas and they wanted to keep the local friendly atmosphere. The original idea for the new club was to collect businessmen from different professions to build the organization.
This original club eventually led to an international organization of service and fellowship which now has more than 1.2 million worldwide members within 35,000 individual Rotary clubs. Often you will hear stories of a fifth person who helped create the beginning of Rotary. The fifth person they are referring to was Harry L. Ruggles. Actually he did not attend the first meeting, but was at the second Rotary club meeting and became the club treasurer. The original four members, Paul P. Harris, Gustavus Loehr, Silvester Schiele, Hiram E. Shorey, and the "fifth Rotarian" Harry L. Ruggles individual biographies with photographs are listed below. (Also listed at the bottom of this web page are the cemetery grave sites photos of the famous 4 first Rotarians.)

From left: Gustavus Loehr, Silvester Schiele, Hiram E. Shorey, Paul P. Harris.
Paul P. Harris
Born: April 19, 1868.
Died: January 27, 1947
Paul Harris, Rotary's founder, was born in Racine Wisconsin, on April 19, 1868. His childhood was slightly different from most as he was raised by his paternal grandparents who lived in Vermont.
Paul Harris attended the University of Vermont, Princeton, and the University of Iowa. As a professional, he was a lawyer.
He served as the president of Rotary for two one-year terms, 1910-1912. He was the founding member of the Rotary Club of Chicago. He was 79 at the time of his death on January 27, 1947.
Gustavus H. "Gus" Loehr
Born: October 18, 1864
Died: May 23, 1918
Gustavus Loehr was born on October 18, 1864 in Carlinville, Illinois. In his professional life he was a Chicago jeweller, promoter and then finally a mining engineer.
Loehr was known for not only hosting the first Rotary meeting in his office, Room 711 of the Unity Building in downtown Chicago, on February 23, 1905, but he also is the person who invited Hiram Shorey to the first meeting.
Loehr was a true philanthropist. Unfortunately, poor deteriorating health forced him to leave the Rotary club, but was still a strong supporter of Rotary until his death at age 53 on May 23, 1918.
As progress moves on, the Unity Building in Chicago, 1989, was to be demolished. Rotarians rallied and removed all the internal fixtures of Loehr's office and stored them. Later, the stored items were reconstructed on the 16-floor of Rotary International headquarters in Evanston, Illinois. The memorial to the first Rotary meeting place remains on display to this date.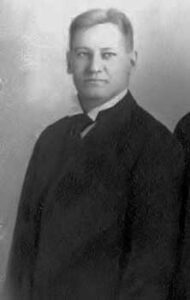 Silvester Schiele
Born: June 29, 1870
Diet: December 17, 1945
Silvester Schiele was born in rural Indiana, in a log cabin in Clay City. He had eight other brothers and sisters of which he was the second oldest. Schiele attended Terre haute Business College and served in the Army during the Spanish-America War.
His profession in Chicago was a coal dealer. In 1896, Schiele had a debt he desired to collect, $20, which he asked a young lawyer who passed by his office frequently. The young lawyer was Paul Harris. He and Paul Harris enjoyed 50 years of friendship which included them sharing a hotel room in the early years of the century when both men were bachelors. During the early years Harris shared with Schiele his ideas of fellowship and building a club.
From 1902 to 1939, he was President of the Schiele Coal Company. In 1905, Silvester Schiele was elected the first president of the new Rotary Club of Chicago, not Paul Harris. Paul Harris and Schiele were next door neighbor in later years. Schiele died on December 17, 1945.
Hiram E. Shorey
Born: August 9, 1862
Died: March 29, 1944
Hiram Shorey was born in Litchfield, Kennebec County, Maine, in August 9, 1862 in a Plains section in a farm house now known as the Black Crow Bakery.
The farm house was originally his mother's father, Stephen Punington, a minister at the Plains Baptist Church.
Shorey's profession was a merchant tailor and he operated in Chicago and New York. The first year of the new Rotary Club of Chicago, Shorey served as the recording secretary. Unfortunately, he was only a Rotarian for a few years.
Upon his death, at age 81, on March 29, 1944, his ashes were scattered in Litchfield where he has a unique monument erected on the Shorey lot in the Litchfield Plains Cemetery.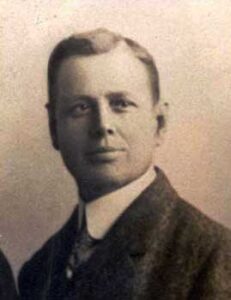 Harry L. Ruggles
Born: September 16, 1871
Died: October 23, 1959
Often referred to as the "Fifth Rotarian, Harry L. Ruggles was born on September 15, 1871 in Decatur, Van Buren County, Michigan. His schooling took him to Northwestern University in Evanston Illinois where he graduated.
He may not have been at the first Rotary club meeting, but he did attend the second. He was the Chicago club treasurer for the 1905 year. Later in 1908 and 1910, he was Chicago club president. In addition to being the fifth Rotarian he is credited with introducing singing into Rotary club meetings.
He owned a printing company, H.L. Ruggles & Co., printed the first issue of The National Rotarians as well as the first songbook for Rotary. At age 88, Ruggles died in Riverside County, California, on October 23, 1959. He was an honorary member of seven clubs besides his own Rotary Club of Chicago.
If it was not for the 4 or 5 men displayed above, Rotary would probably never have been invented. Today, more than 1.2 million members within 200+ countries proudly calling themselves Rotarians, we are happy they meet on February 23, 1905. Is it time you became a Rotarian? We welcome all adults age 18 and above to join the Las Vegas WON Rotary Club, regardless of gender, ethnicity, race, color, abilities, socioeconomic status, culture, sex, sexual orientation and religion.
The following images are the grave site of Paul P. Harris, Gustavus Loehr, and Hiram E. Shorey..
Paul Harris Grave Site – Mount Hope Cemetery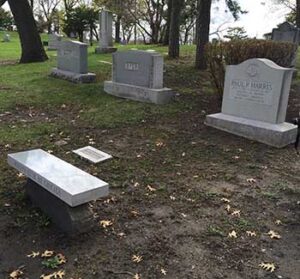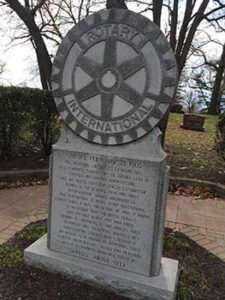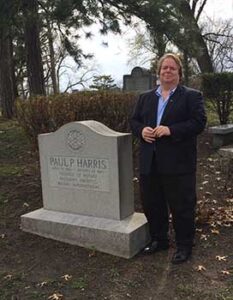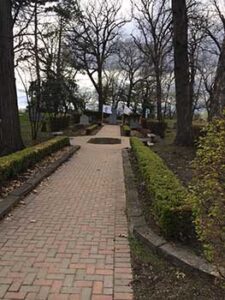 Gustavus H. "Gus" Loehr Grave Site – Carlinville City Cemetery
Silvester Schiele Grave Site (no photo available) – Mount Hope Cemetery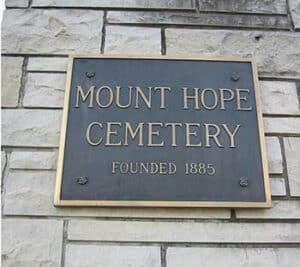 Hiram E. Shorey Grave Site – Litchfield Plains Cemetery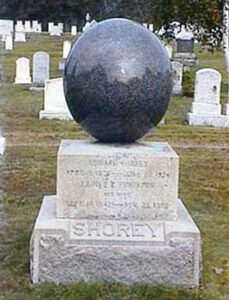 Harry L. Ruggles Grave Site (no photo available) – Memorial Park Cemetery